1,000 Dreams Fund's All-Women's BroadcastHER Esports Tournament Returns in Partnership with Paidia Gaming, Girls Gotta Game, and e.l.f. Cosmetics
Over $10,000 in prizing is up for grabs for the 120 players who will be competing during the two-day qualifying…
---
Over $10,000 in prizing is up for grabs for the 120 players who will be competing during the two-day qualifying event on January 21 & 22, 2023.
1,000 Dreams Fund (1DF), a national nonprofit that supports the dreams of talented young women in need, announces today the return of its all-women's BroadcastHER Esports Tournament for a second year, streaming exclusively on Twitch.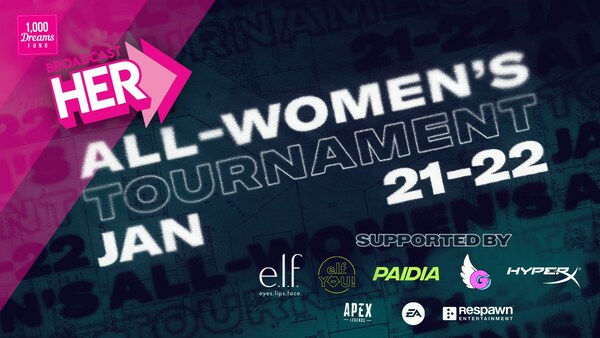 The BroadcastHER Tournament returns in partnership with Paidia Gaming and Girls Gotta Game, and supported by e.l.f. You, a program created by e.l.f. Cosmetics, which is focused on uplifting and empowering all creators in gaming.
The tournament kicks off this weekend, with a two-day virtual qualifier event live streamed with over 120 players competing on 1DF's Twitch Channel on January 21st & 22nd, featuring a diverse line-up of talented women in esports and content creation. All qualifying players from the two-day virtual qualifier event will move to a BroadcastHER Tournament Finals on March 4, in celebration of Women's History Month. The BroadcastHER Tournament includes more than $10,000 in prizing up for grabs — thanks to tournament sponsors e.l.f. Cosmetics and HyperX.
Prize packages include a $1,000 cash prize — split between the top three finishing teams — along with an e.l.f. You Game Up pack from e.l.f. Cosmetics and products from HyperX. Up to five participants will also receive direct BroadcastHER grants provided by 1,000 Dreams Fund of a value of up to $1,000 each.
Developed by Respawn Entertainment, Apex Legends, the award-winning multiplayer Hero shooter, features a diverse cast of Legends, each with their own unique backstories, abilities and play styles. This women-only tournament is designed to encourage and support more women of all skill levels to get tournament experience and enter the esports scene of Apex Legends.
1DF launched their BroadcastHER Initiative in 2018 specifically to fuel the dreams of women who aspire to work in the gaming and esports industry. Since its launch, 1DF has developed several signature programs from their 1DF's Twitch BroadcastHER Grant Program, which annually awards microgrants to up-and-coming women content creators for items like hardware and equipment upgrades or participating in educational conferences, to their BroadcastHER Academy (powered by Allied Esports & HyperX), an Esports Fellowship Program for Women. Across all of their programming, 1DF seeks to empower the rising numbers of female streamers, content creators and esports enthusiasts to succeed both on and behind the camera.
"We are so thrilled to bring back our BroadcastHER Tournament for a second year, part of our BroadcastHER Initiative for our growing community of talented and passionate women gamers. Thanks to the support of Paidia Gaming and Girls Gotta Game, along with our title sponsor, e.l.f. Cosmetics, we will help empower even more deserving women in this industry to reach their awe-inspiring goals in gaming and esports," 1,000 Dreams Fund Founder and CEO Christie Garton says.
While women represent nearly 50% of gamers and are rising in influence in the esports industry, they still face hurdles including gender gaps in salaries and prize earnings and a lack of financial support to fund their creative projects.
Elevating women in gaming, esports, and content creation — and creating safe spaces for them — is so important to 1,000 Dreams Fund. Their BroadcastHER Tournament, in collaboration with Paidia Gaming and Girls Gotta Game, is just one more way they're doing just that.
"We started Paidia because we wanted to support women and diverse gamers who have been massively underserved and overlooked," says Jill Kenney, CEO Paidia Gaming. "We are honored to team up with 1,000 Dreams Fund, Girls Gotta Game and e.l.f. Cosmetics on this activation. Each organization brings something unique to the table, but one thing is certain, everyone is equally passionate about supporting and spotlighting women and diverse gamers – while also creating impactful moments – and together, we will change the game."
1,000 Dreams Fund's BroadcastHER Tournament Lineup
About 1,000 Dreams Fund
About e.l.f. Cosmetics
Since 2004, e.l.f. Cosmetics has made the best of beauty accessible to every eye, lip and face. We make high-quality, prestige-inspired cosmetics and skin care products at an extraordinary value and are proud to be 100% vegan, clean and cruelty-free. As one of the first online beauty brands, e.l.f. continues to attract a highly engaged audience and set benchmarks with new digital platforms. Our brand is widely available at leading retailers such as Target, Walmart and ULTA Beauty, and has a growing international presence including at Boots, Superdrug and Douglas. Learn more by visiting www.elfcosmetics.com.
About HyperX
For 20 years, HyperX's mission has been to develop gaming solutions for every type of gamer and the company is consistently recognized for delivering products that provide superb comfort, aesthetics, performance, and reliability. Under the tagline of "WE'RE ALL GAMERS," HyperX gaming headsets, keyboards, mice, USB microphones, and console accessories are the choice of everyday gamers as well as celebrity ambassadors, pro gamers, tech enthusiasts, streamers and influencers. Visit www.hyperx.com.
About Paidia Gaming
Paidia is a women-led gaming, tech and media company that has created an inclusive gaming community that empowers diverse gamers to safely connect, learn and play. Founded and supported by women, Paidia is led by industry experts who are motivated to provide sophisticated solutions that encourage positive voices within the gaming community. The fully-integrated portal delivers a secure environment for gamers in search of a supportive, inclusive and kind community. It features tournaments and gameplay, media and content experiences, social and community, rewards and prizing, as well as the opportunity to engage with like-minded gamers. Visit www.paidiagaming.com.
About Girls Gotta Game
Founded in April of 2022 by three diverse women of color sharing a passion for competitive gaming and pop-culture, Girls Gotta Game set out a mission to break the bias in the male-dominated Esports industry by forming an empire to: educate, elevate and empower previous and upcoming generations of Women gamers. Girls Gotta Game has become the fastest growing Diverse Women's organization and community to build a platform for Women in Esports by establishing relationships with brands that align with our mission to provide opportunities for Women to establish and succeed in the Esports industry. Visit https://girlsgottagame.carrd.co/