Color Oops Launches Fading Wash with Activated Charcoal to Gently Lighten, Correct, or Fade Hair Color
Color Oops®, a Developlus hair care brand, launches a fast and easy solution to gently fade, tone, and condition hair…
---
Color Oops®, a Developlus hair care brand, launches a fast and easy solution to gently fade, tone, and condition hair with Color Oops® Fading Wash. Formulated for fragile or compromised hair that can't take the normal aggressive bleaching process, Color Oops® Fading Wash can help anyone looking to lighten and brighten blonde by 1-2 levels, correct over-toned hair, or gently fade bold hair color.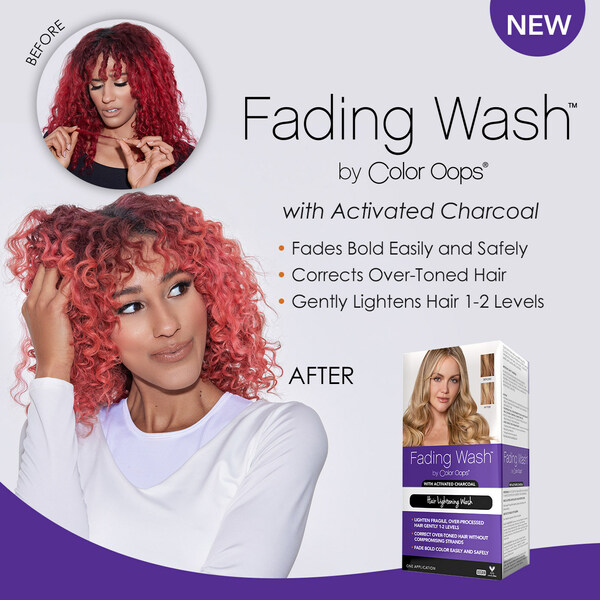 "Color Oops® has always been dedicated to providing solutions to common issues that arise during the hair color process," says Jenniffer Paulson Senior Vice President of Marketing. "The latest launch, Color Oops® Fading Wash, provides users an array of solutions in a single formula, furthering our goal of improving the at home hair color experience."
Color Oops® Fading Wash ($14.99) simply washes out and gently fades bold hair color. Key features include a blue bleach powder that lifts color while brightening hair tone and activated charcoal to remove dirt, build up, and pollutants from the hair and scalp.
This quick, simple, and inexpensive solution is now available on ColorOops.com, Amazon.com, and on shelves at Walmart and will be available at CVS stores February 24, 2023.
About Color Oops: Color Oops® is dedicated to helping you solve any problem that can arise in the hair coloring process. Color Oops® includes a variety of products that will remove a color you did not want, correct off-tones, remove hair dye from skin, and bleaches infused with conditioning elements. Color Oops products range from $4.99–$15.99 and are available at a variety of retailers, including Walmart, Target, CVS, Walgreens, Rite Aid, Bed Bath and Beyond, and on Amazon.com.
About Developlus: Developlus, family-founded, female-owned, hair care products company based in Southern California, was founded in 1991 by Ann & Dave Agrey. As leaders in color and formula development, Developlus has always valued the importance of inclusion and diversity within the workplace and empowering everyday women to be themselves and declare their independence and individuality through hair color. Developlus is accredited and certified as a Women's Business Enterprise by the Women's Business National Council (WBENC), the most relied upon certification standard for women-owned businesses, authenticating that Developlus is at least 51 percent owned, operated, and controlled by women.
Developlus manufactures on-site to ensure each, and every product lives up to their exacting standards. The vast majority of Developlus' products are Vegan Certified, while all products are Cruelty-Free. All new products and reformulations are made for Vegan Certification as they strive to make the best products for consumers and the planet, with a focus on environmental sustainability.
PR CONTACT: Pierce Mattie Communications
Elizabeth Rodger, [email protected]