For Women Entrepreneurs, The West Is the New Promised Land
THE TOP 10 STATES FOR WOMEN-LED STARTUPS IN 2023:
---
Study by MerchantMaverick.com Finds Female Business Owners Have Most Chance for Success Out West These Are the Top States for Women-Led Startups in 2023
America's original Westward Expansion was led by entrepreneurs of the day noticing great economic opportunities out west. A just-released study shows that a new slew of opportunities are appearing in Western states for women entrepreneurs.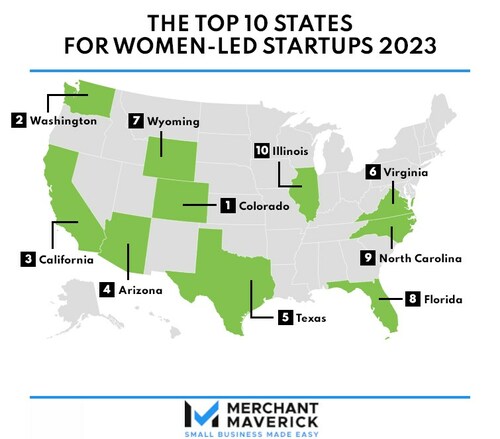 For the third year in a row, Colorado tops MerchantMaverick.com annual ranking of "The Best States For Women-Led Startups". MerchantMaverick.com, which publishes this annual report, is a business product comparison site for business owners. Other western states which made the cut include Arizona, Washington and California.
Interestingly, though, the Northeast, which has traditionally been a strong region for women in business, did not appear in the Top 10 this year. Maryland and Massachusetts both fell out of their coveted spots, and only New York has the region's strongest showing clocking in at Number 12. This drop can be attributed, at least in part, to disproportionate unemployment in that part of the country.
Key findings:
While these lists below offer a bird's-eye view, the full report can be found HERE:
#1.  Colorado
#2.  Washington
#3.  California
#4.  Arizona
#5.  Texas
#6.  Virginia
#7.  Wyoming
#8.  Florida
#9.  North Carolina
#10. Illinois
#46.  Oklahoma
#47.  West Virginia
#48.  Tennessee
#49.  Alabama
#50.  Mississippi
To best determine the best states for women-led startups, the researchers selected and weighted the following metrics:
"There are great opportunities for women who are interested in starting a business all over the country," says Chris Motola, Special Projects Editor, MerchantMaverick.com. "Our study shows, though, that the best chance for success is in the West."
With more than 700,000 page views per month, MerchantMaverick.com is an online publication devoted to providing business owners with accurate, unbiased reviews for their businesses. The company's goal is to provide the most honest, accurate, and useful reviews of business products and services to empower entrepreneurs with businesses of all sizes.
For more information on this list and this topic, please contact Sarah Johnson, [email protected]