Girl, Invest in Yourself Announces March 30A Retreat
—Get Your Money Mindset On and Connect with Like-minded Women Who Want to Build Financial Independence for Themselves and Their Families—
---
Register today for the Girl, Invest in Yourself 30A-located retreat dedicated to empowering women in business tackling financial literacy and independence through real estate investing.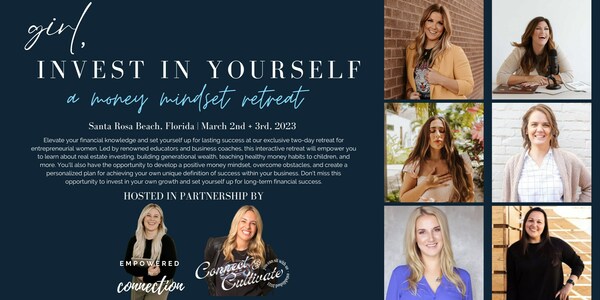 Hosted by Empowered by Connection (owned by McKayla Hale Real Estate) and Connect & Cultivate, on March 2-3, 2023 like-minded women will gather along Scenic 30A in the in Northwest Florida to attend workshops and relax on the picturesque Emerald Coast. Conducted by accomplishes businesswomen and industry experts, workshops include: Designing Your Future: Vision, Goals + Boundaries 101 led by coach Jacki Carr; Tax Strategies for Entrepreneurs with expert tax strategist Barb Schreihans, founder and CEO of Your Tax Coach, and a guided meditation and sound bath with business energetic s coach, Elizabeth Faye.
"Kristen Cantrell, my co-host, and I are thrilled to be bringing together an exceptional group of women for this retreat," said McKayla Hale, founder of Empowered by Connection and co-host of Girl, Invest in Yourself. Hale continues, "We believe that by providing a supportive environment with tactical tools, women at the retreat become armed with an immediate ability to implement those tools into their businesses. This retreat will help attendees achieve their goals and reach their full financial potential."
Outdoor activities in the serenity of the sea air and toes in the sugar sand beaches of 30A include, among other things, a bonfire on Dune Allen Beach.
For more information about the retreat and to register, visit the Girl, Invest in Yourself website here: https://girlinvestinyourself.com.
About Girl, Invest in Yourself
Contact: McKayla Hale 
[email protected]
Tel: (303) 815-7243