GLAM Partners with Arm to Equip Girls for Business and Leadership
GLAM (Girls Leadership Academy Meetup), the Silicon Valley-based nonprofit, today announced the completion of its fourth event in partnership with Arm…
---
GLAM (Girls Leadership Academy Meetup), the Silicon Valley-based nonprofit, today announced the completion of its fourth event in partnership with Arm aimed at teaching girls aged 8-12 leadership and tech skills to help close the gender gap in STEAM (science, technology, engineering, arts, and mathematics) sectors.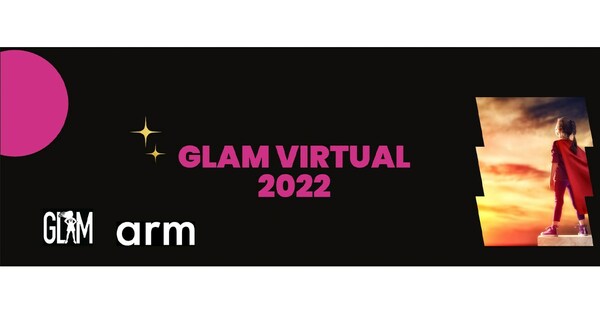 As part of its continuing partnership, more than 100 Arm employees have volunteered their time and expertise to deliver the award-winning curriculum that includes modules on leadership, strategy, teamwork, entrepreneurship, creativity, computer coding, and public speaking, as well as business planning and business pitching. The goal of the program is to equip girls to dream big and aspire to senior leadership roles in STEAM and business. To date, several hundred girls have been positively impacted by this partnership.
The 2022 event was delivered online and included 72 girls, including 21 from underserved communities in the U.S. The other 51 participants were daughters of Arm employees and participated from the United States, United Kingdom, India, and Colombia.
Pre- and post-event surveys revealed that GLAM participants' knowledge of STEAM and leadership subjects improved greatly over the course of the program. The girls' answers to these surveys revealed that their knowledge and confidence with business pitching surged by 130%, and their confidence with public speaking, as well as their understanding of business planning, also increased.
GLAM participants prepared and presented 13 business plans, which were judged by dozens of Arm volunteers on elements such as strategy, value proposition, marketing plan, public speaking, and business pitching. Four winners were selected and received over $700 USD in prizes.
Several Arm volunteers worked with the GLAM participants in a coding session, where the attendees participated in beginner and advanced coding classes. The girls also had the chance to design their own vision boards and submit a business pitch during the program. In the end, 85% of participants expressed interest in continuing to learn more about coding.
"The confidence, expertise and passion that the girls have developed through this GLAM event and through developing their pitches is outstanding," said Anna Malan, Senior Manager of Community and Inclusion at Arm. "I know I speak for every Arm colleague involved in delivering GLAM when I say that we're so proud that Arm could play our part."
GLAM Director of Operations Margaret Sanchez said, "This is the fourth GLAM program we have delivered in partnership with Arm. So far, Arm-sponsored programs have helped equip hundreds of girls with valuable tools for success in senior leadership and entrepreneurship STEAM fields by seeing themselves as leaders where there is still a significant gender gap."
About GLAM
GLAM (Girls Leadership Academy Meetup) is a nonprofit founded in Silicon Valley, California in 2016 by iTalent Digital CEO & Founder Renée La Londe. It was born from a desire to give girls from all socioeconomic backgrounds the opportunity to be exposed to tech and inspired by successful role models from an early age. The immersive business and leadership program can be delivered in person or online, and is always offered free of charge to attendees, thanks to the generosity of partners and sponsors. To see how you can be involved in helping close the gender gap in STEAM fields, visit www.glam-readytolead.com.
Contact: Michele Foster at  [email protected], (408) 872 5227