Harlem's Honey Botanics Presents Soothing Skincare Collection
New York City-Based Skin Care Boutique Tackles Skin Issues Affecting All Skin Tones Winter is one of the hardest seasons…
---
New York City-Based Skin Care Boutique Tackles Skin Issues Affecting All Skin Tones
Winter is one of the hardest seasons on the skin, and skin-facing challenges such as acne, eczema, hyperpigmentation, melasma, and psoriasis can make one want to hibernate until spring. Introducing Honey Botanics, created out of necessity to provide optimal skin health by marrying the most effective skin-nourishing ingredients that address particular skin concerns to heal, regenerate, nourish and hydrate the skin. The organic and handmade skincare line made in Harlem, NY tackles each of these persistent skincare issues with its collection of soaps, creams, and accessories.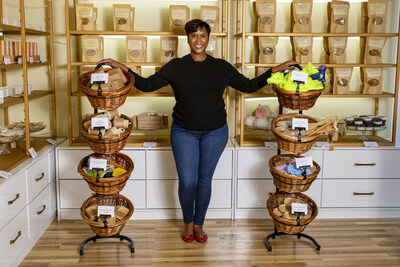 "Dealing with skin issues is never fun, and conditions like eczema can be stressful. But, learning how to treat it can make a huge difference. Severe cases of eczema will require prescription treatments, but many of us with eczema-prone skin can get by with over-the-counter products filled with emollient, humectant ingredients to rehydrate and restore the dry, cracked skin caused by eczema. Honey Botanics products contain ingredients that help to hydrate, nourish, and soothe my skin. They're perfect for anyone, especially for sensitive skin conditions like eczema." Dana Sellers, Honey Botanics Spokesperson.
The handmade skincare and accessories collection headquarters are nestled in the heart of Central Harlem in a gorgeous and modern 800-square-foot boutique at 220 St. Nicholas Avenue at (121st Street) New York, NY 10027. The growing collection ships nationwide via Amazon as well as their home website, serving men and women, looking for soothing solutions to their skincare issues.
Honey Botanics Top Sellers
Kojic Acid Body Soap – tackles hyperpigmentation and scarring
Eczema Body Soap – protects and nourishes the skin from drying and relieves eczema-prone skin from itch
Detox Body Bar – detoxes, nourishes, and clarifies skin
Glutathione Body Soap – glow, regenerate & nourish Skin
Konjac Face Sponge – exfoliates meets cleansing sponge for a refreshed face
This February, Honey Botanics will offer 20% off all items, in-store only.
To review the Honey Botanics skincare collection and/or speak with Dana Sellers about skin care tips using Honey Botanics, please contact:
Kim Wilson Marshall | Wilson Marshall PR + Events | 646.721.4375 | [email protected]