How Misty Phases Postpartum Recovery Wear Inspired a Movement to End Maternal Mortality For Women of Color
In her journey to design purpose-driven recovery wear for the modern mama, Lizeth Cuara became the voice for millions of…
---
In her journey to design purpose-driven recovery wear for the modern mama, Lizeth Cuara became the voice for millions of women around the world
There is a silent crisis in the United States taking the lives of thousands of women annually — yet so few speak about it, or even know about it. The unfortunate and uncomfortable truth is that pregnancy and childbirth complications are the first cause of maternal deaths and disabilities, and over 80% of pregnancy and childbirth-related deaths are preventable. Half of the preventable deaths occurred up to a year after delivery, and black women are three times more likely to die from these complications. So what can be done to champion change, champion women, and stop this silent crisis in its tracks?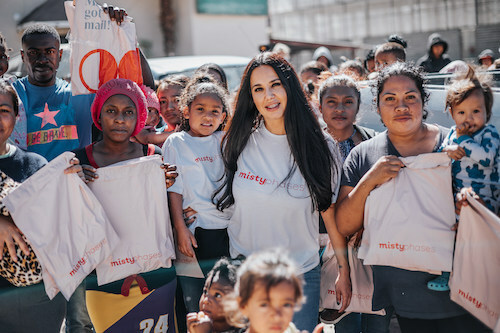 Meet Lizeth Cuara, Founder of Misty Phases, the quality, equitable, innovative maternal wear strategically designed to help postpartum mothers recover through every phase of their journey. Since launching earlier this year, Misty Phases is completely revolutionizing the postpartum process by leveraging ancient techniques to help mothers by going back to the natural way of healing.
After experiencing a new death delivery, and postpartum complications herself as a Latina woman, Lizeth began to see just how broken the system is — especially when it comes to women of color. After hearing woman after woman shares their story and reading the heart-wrenching stories of other women who did not make it, Lizeth researched tirelessly to understand how she could even begin to bridge this gap and bring awareness to this crisis. Then it hit her.
She began to strategically develop products that would help mothers comfortable through every phase of their postpartum recovery and healing process, by focusing on support, air, comfort, and fabric. Though Misty Phases is young, its impact has been felt far and wide as it continues to serve the marginalized mamas in the communities that need it most.
Lizeth and the Misty Phases team have inspired a movement to end maternal mortality for women of color by raising awareness for the silent crisis and by lending a healing hand to every mother in need. For every item that is purchased through Misty Phases, a mother facing homelessness is gifted postpartum recovery wear.
Through proof of concept, dedication to innovation, and unwavering commitment to the community, Misty Phases' purpose-driven vision has come to fruition.
To learn more about Misty Phases, please visit: https://mistyphases.com/ or Impact (mistyphases.com)
Misty Phases is a quality, equitable, and innovative postpartum recovery wear brand designed by a mother, for mothers to offer a more natural way of healing. Founded in 2022 by Lizeth Cuara, a Mexican American raised in Compton, California, Misty Phases was inspired by her personal experience and the experiences of many-colored women. Determined to champion women everywhere, Lizeth set out to create a line of products that would not only help women through their postpartum recovery but also advocate for Equal and Fair maternal care for women of color. After three years of research and development, Lizeth launched an all-inclusive postpartum recovery line. Lizeth is proud to be the first Mexican American to launch a brand in the category.
Press Contact:
Lizeth Cuara
855.937.4100
http://mistyphases.com/