MOZAIK Philanthropy Opens WOMAN. LIFE. FREEDOM.
An Anonymous Virtual Art Exhibition
---
In support of the largest women-led Iranian freedom movement in history, MOZAIK Philanthropy has launched its latest virtual group exhibition, titled: WOMAN. LIFE. FREEDOM. Spotlighting the universal power of art, the 3D exhibition showcases the artworks of 50 international contemporary artists, using their creative works to demonstrate solidarity with the people of Iran as an offering to the movement for freedom, human rights, and human dignity.
The WOMAN. LIFE. FREEDOM. exhibition features contemporary artworks from artists inside Iran, and beyond its borders.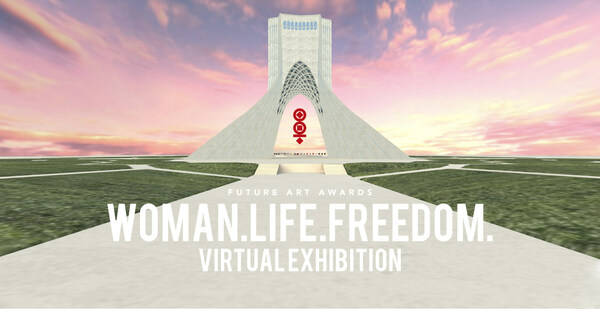 Women and men throughout Iran and people all over the world, have risen up to protest the tragic death of the 22-year-old Jina Mahsa Amini, a woman who died in police custody after being reportedly beaten by the Iranian morality police on September 16th, 2022. Now, months later, tens of thousands of people have since been imprisoned in Iran by the Islamic Republic, and hundreds of others have lost their lives in this escalating humanitarian crisis. Artists, writers, journalists, educators, labor activists, political dissidents and even children have demanded Freedom with their lives. The movement's slogan, "Zan, Zendegi, Azadi," which translates to "Woman, Life, Freedom", originated in Iran's Kurdish region and has reverberated around the globe, over the past months, marking a renaissance for women's rights, emblematic of the fight for human freedom, everywhere.
MOZAIK Philanthropy convened an independent jury of artists and arts professionals to review the hundreds of art submissions received between October and November 2022, initiating a blind review process. The WOMAN. LIFE. FREEDOM. jury was composed solely of Iranian women of the Diaspora, including Visual Artist and Illustrator, Arghavan Khosravi; Scholar, Cultural Historian & Art Curator, Dr. Shiva Balaghi; and MOZAIK Philanthropy's founder, Neda Nobari.
Now on view, the WOMAN. LIFE. FREEDOM. virtual exhibition features contemporary artworks from artists inside Iran, and beyond its borders. It serves as a dedication to the bravery of the Iranian people, especially Iranian women and girls. All the artwork is shown anonymously out of sensitivity for the severe security concerns for the artists inside Iran and in solidarity with all those who have and continue to risk their lives for freedom.
Previously, over 200 artists have been featured in Future Art Awards since the inaugural grantmaking program first launched in 2020 to support artists during the pandemic with financial relief grants and exhibition exposure. Ranging across all ages and career stages, the Future Art Awards artists include photographers, painters, sculptors, street artists, muralists, mixed-media artists, visual, multi and interdisciplinary artists, illustrators, animators, 3D artists, Web3 poets, cartoonists, technologists, filmmakers, art writers, composers, weavers, dancers, and creative performers.
WOMAN. LIFE. FREEDOM. is now on view, free and open to the public. For more information, please visit: https://mozaikphilanthropy.org/woman-life-freedom/
Media Contact
Keely Badger
[email protected]