PayPal Announces Recipients of Second Annual Maggie Lena Walker Award
The award honors the legacy of the first Black woman to charter a U.S. bank PayPal Holdings, Inc. (NASDAQ: PYPL)…
---
The award honors the legacy of the first Black woman to charter a U.S. bank
PayPal Holdings, Inc. (NASDAQ: PYPL) today announced the recipients of the second annual Maggie Lena Walker Award. Named in honor of the first Black woman to charter a bank in the U.S. and serve as its president, the award seeks to celebrate the achievements of women from underrepresented groups in the U.S. who are economically empowering those in their community and creating a more inclusive world.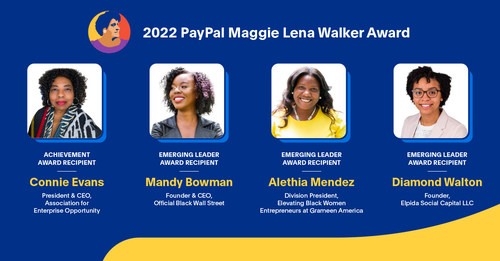 The award recipients were chosen by a Selection Committee whose members included senior leaders within the PayPal community, including Dan Schulman, PayPal president and CEO, and Liza Mickens, Walker's great-great-granddaughter and co-founder of Vote Equality.
Achievement Award 
Connie Evans, president and CEO, Association for Enterprise Opportunity. Like Maggie Lena Walker, Connie Evans has had many firsts. In 1986, she was the founding president of the award-winning Women's Self-Employment Project, the first and largest urban microbusiness development organization in the U.S., and she was the first Black woman elected to serve on the Board of the Federal Reserve Bank of Chicago. Under her leadership, the Association for Enterprise Opportunity (AEO) has expanded to represent more than 2,600 microbusiness development practitioners and advocates working to create economic opportunity for underserved entrepreneurs.
"Maggie Lena Walker saw the economic independence of her peers as an ethical imperative," said Connie Evans, president and CEO, AEO. "Similarly, I believe that economic freedom through business ownership is key to driving wealth and sustaining economic vibrancy for underserved communities. I am incredibly honored to receive this award, which recognizes the relevance of our work at AEO to advance financial inclusion and will continuously strive to live up to Maggie Lena Walker's legacy."
Emerging Leader Award
You can learn more about each of the winners and their work on the PayPal Newsroom.
This is the second year of the award, which was established in 2021 as part of PayPal's commitment to advance its mission of creating a more inclusive economy. In 2020, PayPal pledged $535 million to address economic inequality among Black and underserved businesses and communities in the U.S. Last year, PayPal committed $100 million to advance financial inclusion and economic empowerment of women and girls.
2022 PayPal Maggie Lena Walker Award Finalists 
The Selection Committee has also named 12 award finalists to recognize their extraordinary work:
Achievement Award
Emerging Leader Award
About PayPal 
PayPal has remained at the forefront of the digital payment revolution for more than 20 years. By leveraging technology to make financial services and commerce more convenient, affordable, and secure, the PayPal platform is empowering 429 million active consumer and merchant accounts in more than 200 markets to join and thrive in the global economy. For more information, visit paypal.com.
Media Contacts 
Janine Kamwene 
[email protected]
Meghan Gage
[email protected]