Radical Reinvention: PR Titan Maureen Lippe Redefines Success in New Book
In her debut book, Radical Reinvention: Reimagine, Reset, Reinvent in a Disruptive World, editorial and PR powerhouse Maureen Lippe shares…
---
In her debut book, Radical Reinvention: Reimagine, Reset, Reinvent in a Disruptive World, editorial and PR powerhouse Maureen Lippe shares her personal journey and unique recipe for success. The book, marked by its striking turtle-on-wheels cover, is a treasure trove of remarkable life narratives, transforming life lessons, and an innovative 8-Step Reinvention Toolkit.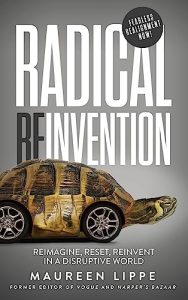 Lippe, the former Fashion, Beauty, and Health Editor of Vogue and Harper's Bazaar developed this toolkit from her own experiences, validated through therapists and bold pioneers. The book extensively covers company reinventions, featuring renowned brands such as Lippe Taylor Group, LVMH, and Wells Fargo.
"I endured the pandemic, striving to keep my company thriving and my husband healthy. Despite our company's growth during the crisis, I tragically lost my husband to Covid," reveals Lippe, the founder and chairman of the esteemed Lippe Taylor Group. She credits her 'radical reinvention' as the catalyst that saved her life and her company. Lippe's transformation journey, though arduous, could inspire numerous individuals seeking to reimagine their lives and careers.
Lippe has offered brand-building counsel to top-tier companies in her illustrious career spanning over three decades. Starting her career as a fashion editor at Vogue magazine, she later became the beauty and health editor at Harper's Bazaar. Lippe then became an on-air correspondent on Live with Regis and Kathie Lee, conducting weekly makeover segments.
Following the devastating loss of her husband, Lippe managed to reestablish her identity and expand her business. Her unique 8-Step Reinvention Toolkit helped her to rediscover herself and could potentially aid others.
Lippe explains, "The turtle, a symbol of reinvention for 90 million years, is my chosen motif for this book. You'll learn to be resilient and not retract for long. Put your wheels on and move forward."
Radical Reinvention, published by Blue Moon Press, is available on Amazon and other quality book retailers. A special Prime Day deal offers the book's digital copy for just $0.99 the entire week of July 10th. All proceeds from the book benefit Step Up Women's Network, a non-profit organization advocating for girls and those who identify with girlhood to define and achieve their unique visions of success.