Third Editon of 'Women's International Champions Cup Best XI Presented by Ally' Team Announced
Esteemed advisory board selects those doing the most to advance women's soccer
---
Relevent Sports Group (RSG) announced today the third class of winners of the Women's International Champions Cup Best XI Presented by Ally, which is comprised of the athletes, executives, journalists, coaches, owners, and activists who are doing the most to advance women's soccer.  This initiative continues to expand RSG's footprint in the women's game globally and reinforces the organization's commitment to the growth and development of women's soccer with a focus on striving for a level playing field.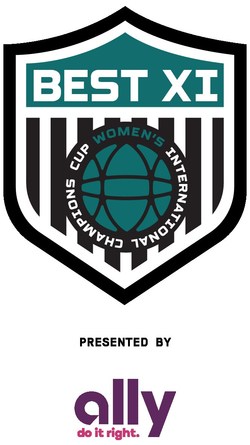 For the 2022 edition, the advisory board featured six WICC Best XI veterans – Danielle Slaton (2020 and 2022 Board Member), Grant Wahl (2020, 2021, and 2022 Board Member), Lori Lindsey (2021 and 2022 Board Member), Moya Dodd (2020 Winner and 2021 and 2022 Board Member), Kelly Simmons (2020 Winner and 2022 Board Member), and Meskerem Goshime (2021 Winner and 2022 Board Member); and two newcomers – Melissa Ortiz (Former Colombian National Team Player and Current Broadcast Analyst and Influencer) and Tina Shah (Executive Vice President and General Manager at Turner Sports). The board advocated and debated during several sessions and selected the following individuals as the 2022 WICC Best XI honorees: two players – Asisat Oshoala and Linda Caicedo; one coach – Sarina Wiegman; two journalists – Jeff Kassouf and Anna Kessel; two executives – Cindy Parlow Cone and Andrea Brimmer; two club founders/owners – Kara Nortman and Angie Long; and two activists – Asma Mirzae and Fran Hilton Smith.
Similar to the previous editions, RSG has created an original short film on each Best XI honoree and will highlight one Best XI honoree each day from November 8-18, sharing each person's film on RSG's social and digital channels as well as on a dedicated page of the ICC Website.
"Now in its third year, the WICC Best XI continues to cement itself as one of the most coveted awards in women's soccer.  The winners work tirelessly to champion the women's game, often in spite of great obstacles. Without the contributions of the 2022 honorees, the women's game would not have the explosive growth that we're seeing today. It is an honor to share and celebrate their extraordinary efforts with fans all over the world," said Susie Fiore, Head of the WICC.
"We are thrilled to once again to have Ally as the presenting partner of the WICC Best XI.  I am not aware of any other brand that makes equal media and marketing spends in men's and women's sports," said Fiore. "Because we are aligned in our mission of elevating women's sports to level the playing field, Ally is the perfect partner for us on our WICC platforms."
"We couldn't be prouder to continue our support of the Women's International Champions Cup and its effort to spotlight the game-changers who are forever shifting the landscape of women's sports," said Andrea Brimmer, Chief Marketing and Public Relations Officer at Ally. "This is an honor I share with my amazing sports marketing/PR team who are passionate about the business of women's sports. Together we are committed to doing the work."
Players
Asisat Oshoala
Linda Caicedo
Coach
Sarina Wiegman
Journalists
Jeff Kassouf
Anna Kessel
Executives
Cindy Parlow Cone
Andrea Brimmer
Club Founders/Owners
Kara Nortman
Angie Long
Activists
Fran Hilton Smith
Asma Mirzae
Relevent Sports Group (RSG) is one of the most influential privately-owned international soccer companies, with a focus on growing the popularity of the sport in North America and Asia. RSG delivers exceptional multi-platform experiences and access for fans across the International Champions Cup, Women's International Champions Cup, and the International Champions Cup Futures tournaments featuring the world's top soccer clubs. RSG also invests in and develops platforms to accelerate the growth of soccer, including the first-of-its-kind joint venture with LaLiga to grow the popularity and value of the league in North America.
Ally Financial Inc. (NYSE: ALLY) is a leading digital financial-services company with $185.3 billion in assets as of September 30, 2020. As a customer-centric company with passionate customer service and innovative financial solutions, we are relentlessly focused on "Doing it Right" and being a trusted financial-services provider to our consumer, commercial, and corporate customers. We are one of the largest full-service automotive-finance operations in the country and offer a wide range of financial services and insurance products to automotive dealerships and consumers. Our award-winning online bank (Ally Bank, Member FDIC and Equal Housing Lender) offers mortgage lending, personal lending, and a variety of deposit and other banking products, including savings, money-market, and checking accounts, certificates of deposit (CDs), and individual retirement accounts (IRAs). Additionally, we offer securities-brokerage and investment-advisory services through Ally Invest. Our robust corporate finance business offers capital for equity sponsors and middle-market companies.
For more information and disclosures about Ally, visit https://www.ally.com/#disclosures.