United For – United With – The Girls and Women of Afghanistan
ECW Director Yasmine Sherif Statement: 500 Days After Taliban Ban on Girls' Secondary Education in Afghanistan – #LetAfghanGirlsLearn Today marks…
---
ECW Director Yasmine Sherif Statement: 500 Days After Taliban Ban on Girls' Secondary Education in Afghanistan – #LetAfghanGirlsLearn
Today marks an unacceptable low point for humanity. For 500 days, the Taliban have denied secondary school-aged girls in Afghanistan their inherent human right to an education.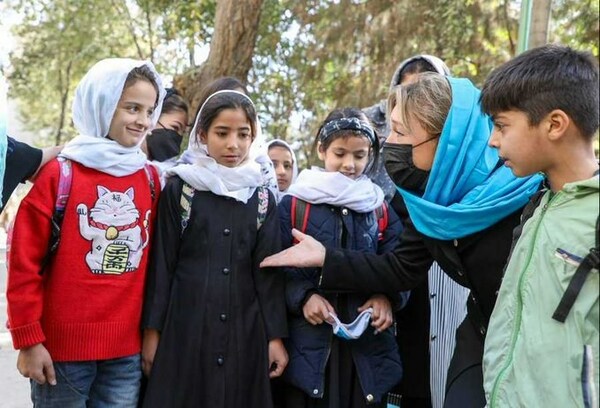 This ban – and more recent bans on Afghan girls from university education – do not mirror the culture and faith of Afghanistan, a country representing a profoundly spiritual belief in Islam alongside a legitimately strong commitment to independence.
Banning girls from school at higher levels harms all that Afghanistan stands for, and most importantly, harms the wellbeing of its people and the future of this war-torn country. These bans are rudimentary and in contravention of universal human rights, they violate the very principles of Islam, and the emphasis on education and learning for all – while also being a clear violation of girls' and women's basic human rights.
Please join Education Cannot Wait – and key leaders around the world including UN Deputy Secretary-General Amina Mohammed and UN Special Envoy for Global Education The Rt. Hon. Gordon Brown – in uniting for, and uniting with, every girl and woman in Afghanistan, while also calling on their sons, brothers and husbands to stand by them.
Together, we must continue global efforts to push for the respect of all girls' and women's human rights in Afghanistan, including their fundamental right to inclusive, equitable, quality education.
By banning girls' access to secondary school, barring young women from taking university exams, and taking extraordinary steps to limit girls' and women's roles in Afghan society, the Taliban are exacerbating the suffering of the Afghan people and deepening the humanitarian catastrophe that will create lasting socio-economic impacts on Afghanistan – a country already on the brink of starvation, facing extreme poverty and devastating climate-disasters.
The proud, resilient and stoic people of Afghanistan have suffered enough. It is time to embrace the very tenants of the Islamic religion that embody the concepts of peace, humanity, learning and education.
By allowing all Afghan girls and boys to go to school, the de facto authorities have the opportunity to build a strong society, to end hunger and poverty for the Afghan people, and to rebuild a nation that has immense potential to recover and stand strong as a fiercely independent country. By providing access to education for every Afghan child, girl and boy, they have a chance to make a mark on history.
Photo – https://mma.prnewswire.com/media/1995091/ECW_Director_Yasmine_Sherif.jpg
Logo – https://mma.prnewswire.com/media/1656121/Education_Cannot_Wait_Logo.jpg