Carhartt Empowers Women in the Skilled Trades with Call for Spring 2023 "For the Love of Labor" Grant Applications
Applications for bi-annual grant program are open through Feb. 17 as brand champions opportunities for the next generation of America's diverse workforce
---
The U.S. workforce has weathered major challenges in recent years, as the pandemic amplified the demand for skilled labor. Despite skilled labor shortages across myriad industries, women's share of the ever-expanding construction workforce reached an all-time high – 14 percent – in 2022, and the number of minority women apprentices has nearly doubled in recent years.2 With opportunities for women to enter the trades being stronger than ever, family-owned workwear brand Carhartt is dedicating its Spring 2023 round of bi-annual "For the Love of Labor" grants to increase female representation in the skilled trades.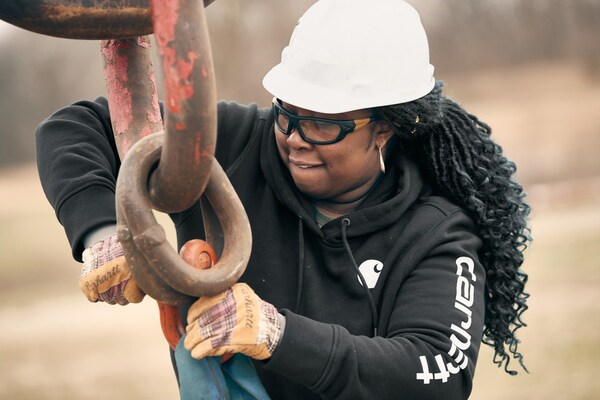 Now through Feb. 17, eligible nonprofit organizations that help place women in skilled positions are encouraged to apply for the Spring 2023 grants as part of the brand's ongoing commitment to strengthening and diversifying America's workforce. Recipients will be announced in early March ahead of International Women's Day as part of Carhartt's larger celebration of women in the skilled trades.
"While women have always played a vital role in this country's rich history of labor, they remain disproportionately underrepresented in the skilled trades, where many of the jobs are historically male-dominated," said Linda Hubbard, president and COO at Carhartt. "Carhartt was founded on the belief that careers in the skilled trades provide rewarding and inclusive job opportunities, and through our next round of grants, we strive to empower like-minded organizations that champion women as an integral part of America's workforce."
Launched in August 2022, Carhartt's For the Love of Labor grant program is a first-of-its-kind initiative for the brand, created to support community-based nonprofit organizations nationwide to educate, train and place workers into meaningful skilled trade jobs. The inaugural round of For the Love of Labor grants, totaling $175,000, were awarded to four deserving organizations in Carhartt's home state of Michigan, including Women Who Weld, Women in Skilled Trades, Emerging Industries Training Institute and Workforce Development Institute – Access for All.
"Fostering a more inclusive and diverse workforce is the first step in building stronger individuals, families and communities," said Todd Corley, senior vice president of inclusion, sustainability and community at Carhartt. "By working to bridge the opportunity gap between men and women in the trades, we're not only enriching our nation's talent pool to meet the rising demand for labor, but also delivering on Carhartt's longstanding mission is to protect and serve all hardworking people."
Eligible organizations must be a U.S.-based 501©3 designated organization in recognized apprenticeship industry3 that has established programs serving at least 100 individuals annually.
To learn more about the For the Love of Labor grant program and how Carhartt is working to build a better world, please visit carhartt.com/isc-hub or reach out to [email protected] for additional information.
1 U.S. Bureau of Labor Statistics
2 Institute for Women's Policy Research
3 U.S. Department of Labor
Established in 1889, Carhartt is a global premium workwear brand with a rich heritage of developing rugged products for workers on and off the job. Headquartered in Dearborn, Michigan, with approximately 5,400 employees worldwide, Carhartt is family-owned and managed by the descendants of the company's founder, Hamilton Carhartt. For more information, visit www.carhartt.com.
Contact: 
Spencer Stewart
Darcy Heinrichs
Zeno Group for Carhartt 
 Zeno Group for Carhartt
(903) 357-9547
 (816) 514-1492