Introducing 1SAVES20: A New Rinse-Free Beauty Collection That Saves Water
As Californians familiar with drought conditions, friends Mo Pritzker, Mary Bang and Adrienne Arieff bonded over a desire to find…
---
As Californians familiar with drought conditions, friends Mo Pritzker, Mary Bang and Adrienne Arieff bonded over a desire to find ways to conserve water while also teaching their kids about making small, meaningful choices.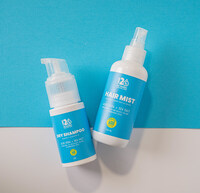 After discovering how much water is used in the bathroom, the trio formulated shower, shampoo and cleansing essentials that deliver a convenient, rinse-free experience using all-natural, planet-friendly ingredients that really work—at home or on the go. For every application, a user saves 20 gallons of water.
"When we all started discussing how water conservation is a top priority – both for us as well as for our children – we realized that the solution isn't a few people practicing conservation perfectly. Rather, it's many people each making small but meaningful choices," says Arieff. "And an easy place to start is in the bathroom where gallons of water are wasted every day. 1SAVES20 offers convenient solutions that refresh without water."
Cruelty-free, gluten-free, alcohol-free and vegan, essentials include:
What's more, 1SAVES20 is committed to giving back. The company donates 500 products each month to homeless centers across the country. With hygiene products among the most requested, 1SAVES20's partnership with centers from coast to coast gives access to these essentials directly to those in need.
Available at 1SAVES20.com and Amazon, the collection retails from $12.99 to $16.99.
Learn more at 1SAVES20.com
Follow 1Saves20 at @1SAVES20