Digi-Key Celebrates National Engineers Week with Giveaways, Instagram Takeover and "Girl Day" Event
Digi-Key Electronics, which offers the world's largest selection of electronic components in stock for immediate shipment, is celebrating National Engineers…
---
Digi-Key Electronics, which offers the world's largest selection of electronic components in stock for immediate shipment, is celebrating National Engineers Week, from Feb. 19-25, 2023, with a slate of activities focused on engineers, makers and STEAM fields (science, technology, engineering, the arts and math).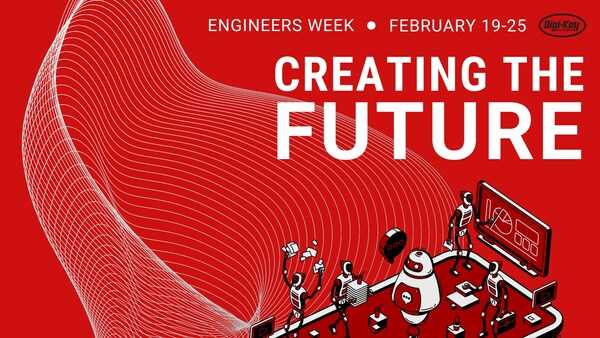 This year Digi-Key will kick off the week with giveaways of products and swag on its social media channels. On Thurs., Feb. 23, Becky Stern, an influential maker in the industry, will take over the company's Instagram feed and host a live Q&A. At 5:30 p.m. CST that evening, Stern, along with Allie Weber, an inventor, maker and STEM advocate, will host an "Introduce a Girl to Engineering Day" (Girl Day) event with special STEAM field guest appearances. According to Discover Engineering, 69% of girls reported that mentors from Girl Day events inspired them to consider careers in engineering.
"As a leading electronic components distributor to engineers and makers around the world, we are excited to celebrate engineers, makers and students in the STEAM fields during this notable week," said David Sandys, senior director of technical marketing at Digi-Key. "By highlighting these individuals and professions throughout the week, we are joining a coalition of groups across the U.S. dedicated to raising awareness of engineers, designers and makers and the contributions they make around the globe."
Founded by the National Society of Professional Engineers (NSPE) in 1951, Engineers Week fosters increased understanding of and interest in engineering and technology careers to ensure a diverse and well-educated future engineering workforce.
For more information and a schedule of events visit Digi-Key's social channels at Facebook, Twitter, YouTube, Instagram and LinkedIn.
Digi-Key Electronics, headquartered in Thief River Falls, Minn., USA, is recognized as both the leader and continuous innovator in the high service distribution of electronic components and automation products worldwide. As the original pioneer in this space, Digi-Key provides more than 13.4 million components from over 2,300 quality name-brand manufacturers with an industry-leading breadth and depth of product in stock and available for immediate shipment. Beyond the products that drive technology innovation, Digi-Key also supports design engineers and procurement professionals with a wealth of digital solutions and tools to make their jobs more efficient. Additional information can be found at digikey.com and on Facebook, Twitter, YouTube, Instagram and LinkedIn.
Editorial Contact
Megan Derkey
Bellmont Partners
+1 612 255 1115
[email protected]