IWMF Announces Judy Woodruff as 2023 Leadership Honoree
Former PBS NewsHour Anchor to be Recognized at Courage in Journalism Awards
---
The International Women's Media Foundation (IWMF) today announced that the organization's co-founder and esteemed broadcast journalist Judy Woodruff will be this year's IWMF Courage in Journalism Leadership Honoree. In addition to her role as a pioneer of the IWMF, Woodruff will be recognized for her contributions to gender equity in journalism, press freedom and impartial, award-winning news making.
Judy Woodruff is the 2023 IWMF Courage in Journalism Leadership Honoree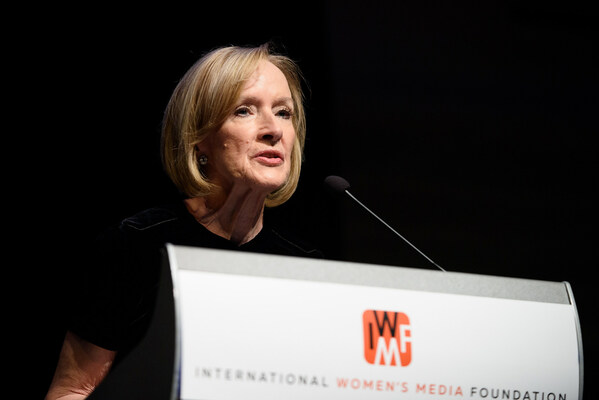 Together with several influential women in journalism, Woodruff co-founded the IWMF in 1989 as a way to increase access and opportunity for women journalists worldwide. Continuing Woodruff's vision, last year the IWMF awarded nearly $600,000 in reporting grants to 208 journalists, funded 340 stories published in more than 120 outlets and provided $417,000 in emergency aid to more than 160 journalists worldwide. In addition, 530 journalists and 20 newsrooms participated in IWMF-led physical and digital security trainings, while more than 1.6 million journalists completed the organization's self-paced safety courses.
"The IWMF would not exist today without the foresight, determination and leadership of the incomparable Judy Woodruff – our founder, friend and beacon of integrity in the journalism industry," said Elisa Lees Muñoz, Executive Director of the IWMF. "Judy's guided the scope, service and impact of the IWMF to become what it is today. For more than three decades, that legacy's inspired thousands of women journalists to launch careers and bring critical truths to light."
Before anchoring the PBS NewsHour, Woodruff covered politics and other news for five decades at PBS as well as NBC, CNN and Bloomberg Television. She also developed a documentary series on millennials for PBS, NPR, USA Today and Yahoo News. Woodruff and the late Gwen Ifill – the namesake of the IWMF's annual Gwen Ifill Award and the Gwen Ifill Mentorship Program – were named the first two women to co-anchor a national news broadcast when they joined the NewsHour anchor desk together in 2013.
"When the IWMF was founded, it was our hope that the organization would grow to meet the need of so many women journalists whose voices are indispensable to local and global news making," said Woodruff. "The IWMF's role today as a leading funder of women's bylines exceeds our every expectation. I'm incredibly honored to be recognized by the IWMF this year, an organization whose mission is near and dear to my heart."
Woodruff will join the IWMF in recognizing other 2023 Courage Award winning journalists who continue to report despite increasing challenges, obstacles and risks – even imprisonment. The 34th annual Courage in Journalism Awards ceremony will be held in New York City, Los Angeles and Washington, D.C., this fall. The IWMF is pleased to share that Bank of America is the National Presenting Sponsor of the Courage in Journalism Awards for a 17th consecutive year.
Details regarding sponsorship of the Courage Awards can be directed to Ann Lewandowski at [email protected].
About the International Women's Media Foundation
Founded in 1989, the International Women's Media Foundation (IWMF) is the only global non-profit organization that offers emergency support, safety training, reporting opportunities and funding avenues offered specifically for women and nonbinary journalists. We are making more bylines possible and work tirelessly to ensure a greater diversity of voices represented in the news industry worldwide. Follow the IWMF on Twitter at @IWMF, on Facebook at @IWMFPage, and Instagram on @TheIWMF.