TRESemmé, America's #1 Hair Care and Styling Brand, Pioneers a New Style Movement: Fluid Hair
TRESemmé teams up with choreographer Parris Goebel and the USA Olympic Artistic Swimming Team for an underwater routine choreographed around the beauty of fluid hair to celebrate the launch of the new TRESemmé Pro Infusion Collection
---
TRESemmé, America's #1 hair care and styling brand, introduces the new Pro Infusion collection. This sulfate-free collection, powered by natural coconut oil droplets and infused with plant protein, provides ultra smooth strands and styles with intense shine and fluid movement. TRESemmé knows that style and beauty trends have changed over the years from stiff and tight to more fluid. Pro Infusion features shampoos, conditioners and tonic waters, all with COCO-PROTEINizeTM technology that includes a salon-based plant protein that penetrates hair and hydrating coconut oil for fluid hair with optimal elasticity.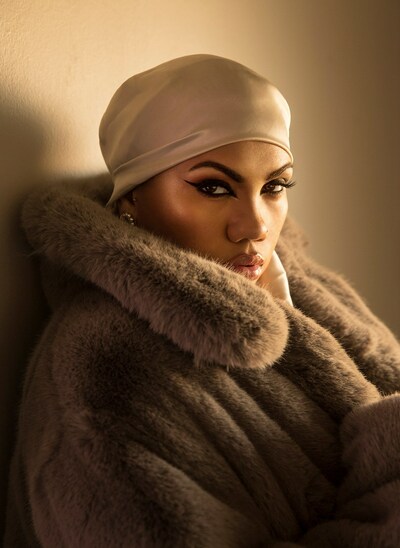 To demonstrate the Pro Infusion product technology and benefits, TRESemmé partnered with Parris Goebel, award-winning choreographer, to produce an underwater routine with the USA Olympic Artistic Swimming Team – a team known for pre-treating their hair with gelatin that is worn stiff and typically concealed for their performances. In the film titled "Fluid," directed by Agostina Gálvez, the aquatic dance flaunts the fluid movement of the swimmers' hair underwater, which was treated with the new TRESemmé Pro Infusion products. The USA Olympic Artistic Swimming Team also used the Pro Infusion collection to achieve the high shine styles worn out of the water for the creation of this campaign.
"The fluid movements of the hair in this film showcase the beauty of strong, nourished strands that the new Pro Infusion products provide, as well as the freeing feeling that women experience when expressing their authentic selves and personal style," said Jessica Grigoriou, Head of Beauty Marketing and Salon & Masstige Hair Portfolio Director at Unilever NA. "We are honored to be partnering with the extremely talented Parris Goebel and the USA Olympic Artistic Swimming Team to demonstrate the beauty of fluid hair. Through the inspiring underwater routine, combined with our new Pro Infusion products, TRESemmé is empowering women to feel free and let their hair shine."
Fluid hair has been seen in the spotlight on countless red carpets and runways, creating a hair trend that women cannot ignore. However, to achieve this smooth, sleek style, women typically have had to rely on expensive salon treatments. For over 70 years, TRESemmé has been dedicated to developing salon-quality products that offer women the professional tools they need to create the latest hair trends while embracing their personal style. With the new Pro Infusion products, TRESemmé continues to provide affordable hair care solutions that help achieve salon styles.
"I am known for breaking rules and pushing boundaries when it comes to my creativity, so I was thrilled to partner with TRESemmé, a brand that encourages women to embrace their personal style and the power that it brings, to create a routine that is unlike anything I have ever done before," stated Parris Goebel. "Using dance to express yourself is beautiful and collaborating with the USA Olympic Artistic Swimming Team, who are such dedicated athletes and performers, for this powerful captivating performance was so refreshing and invigorating."
The TRESemmé Pro Infusion products feature Fluid Volume, Fluid Smooth, Fluid Curls and Fluid Color shampoos and conditioners, as well as Fluid Volume and Fluid Smooth tonic waters. The products are available for purchase at food, drug, and mass market retailers nationwide for SRP $6.99. To view the TRESemmé film "Fluid" visit tresemme.com or follow @Tresemme on TikTok, Instagram, Facebook and Twitter.
TRESemmé has embarked on a two-year partnership with the USA Olympic Artistic Swimming Team, and is excited to support the team's training, competition schedule, and pursuit of the 2024 Summer Olympics in Paris.
About Unilever North America
Unilever is one of the world's leading suppliers of Beauty & Personal Care, Home Care, and Foods & Refreshment products, with sales in over 190 countries and products used by 3.4 billion people every day. We have 148,000 employees and generated sales of €52.4 billion in 2021. Over half of our footprint is in developing and emerging markets. We have around 400 brands found in homes all over the world – including iconic brands like Dove, Knorr, Hellmann's, Magnum, Axe, Ben & Jerry's, Degree, Seventh Generation, St. Ives, Suave, TRESemmé, and Vaseline.
Our vision is to be the global leader in sustainable business and to demonstrate how our purpose-led, future-fit business model drives superior performance. We have a long tradition of being a progressive, responsible business. It goes back to the days of our founder William Lever, who launched the world's first purposeful brand, Sunlight Soap, more than 100 years ago, and it's at the heart of how we run our company today.
The Unilever Compass, our sustainable business strategy, is set out to help us deliver superior performance and drive sustainable and responsible growth, while:
While there is still more to do, in the past year we're proud to have achieved sector leadership in S&P's Dow Jones Sustainability Index, 'Triple A' status in CDP's Climate, Water and Forest benchmarks, and to be named as the top ranked company in the GlobeScan/SustainAbility Sustainability Leaders survey for the eleventh consecutive year.
For more information on Unilever U.S. and its brands visit: www.unileverusa.com
For more information on Unilever Canada and its brands visit: www.unilever.ca
About Parris Goebel
Hailing from Auckland, New Zealand, Parris Goebel has become a global sensation. Interested in dance at an early age, Goebel began taking hop-hop lessons when she was only 10 years old. Five years later, when she was 15, she started the all-female dance group ReQuest with four of her friends. A year later, Goebel and her team traveled from New Zealand to the United States for the Monsters of Hip Hop Dance Convention, where Goebel was selected to dance in the convention's final performance. At the convention's conclusion, Goebel left school and began concentrating on dance full time. There's been no looking back since; over the past decade, Goebel's success has garnered unprecedented international attention and acclaim. In 2012, she begin a long-lasting work relationship with Jennifer Lopez, choreographing her Goin' In music video, her American Idol performance, as well as the star's world tour, all in the same year. Goebel's work with Lopez reached unrivaled heights in 2020, where she is choreographed the singer's halftime show performance at Super Bowl LIV. Goebel's name is synonymous with some of the biggest stars of the most recent times, with work for Rihanna, Janet Jackson, Kanye West, PSY, Nicki Minaj, Ariana Grande, Little Mix, Ciara, Jason Derulo, Big Bang, & Sam Smith all under her belt. In addition, she choreographed Justin Bieber's music video for Sorry, which garnered more than 3 billion views on YouTube and is the 8th-most viewed video on the site. She also choreographed all of Rihanna's Fenty x Savage shows for Amazon, garnering her an Emmy win and multiple nominations. In 2016, she won Female Choreographer of the Year and Live Performance of the Year at the World of Dance Awards. In 2020, she was appointed a Member of the New Zealand Order of Merit, for her services to dance. Goebel is poised to soon add another craft under her already impressive list of talents; filmmaking. Sony Pictures has tapped the star to direct "Murder on the Dance Floor," an adaptation of her own original street-dance-based production. The film will serve as Goebel's feature film directorial debut.
About the USA Olympic Artistic Swimming Team
USA Artistic Swimming (USAAS) is the recognized governing body for the sport of artistic swimming in the United States. USAAS works to grow the sport through club development and youth sports participation while fielding various age group national teams that represent the nation at various international competitions including World Championships and Olympic Games.

The sport of artistic swimming, formerly known as synchronized swimming, was first included in the Olympic Games in 1984, with the United States winning the first Olympic gold medals. The competitive rules and manner of judging are similar to such sports as figure skating and gymnastics. The USA Artistic Swimming Senior National Team trains nearly year round out of Los Angeles, Calif, spending on average 6-10 hours in the water and on land each day to perfect their technique and competitive routines. The team, composed of athletes ages 16-26, trains to compete at events hosted by FINA, the world governing body for aquatics, with the ultimate goal of Olympic qualification for both the team and duet events. The upcoming Pan American Games in 2023 will determine which pan american nation will be awarded the continental qualification slot to compete at the 2024 Paris Olympics.
About Agostina Gálvez
Agostina is a Buenos Aires born film director and photographer whose work expands from fiction narrative to commercial productions and music videos. Her films often feature dazzling choreography and dreamlike sequences. She likes to work with people who have unique features, challenging the standard parameters of beauty by finding it in non-conventional places, or what she likes to call "beautiful flaws".
She has directed several narrative short films that have won numerous awards and have been featured on HBO and international film festivals like Locarno, BFI and New York Film Festival.  Agostina has always been a cinephile with inclinations towards art, fashion and design. She graduated from Universidad del Cine after studying Film Directing.   She now resides in Buenos Aires, where she's working on her first feature film.
Media contact
Lauren Beene
[email protected]
212-537-8733