Zūm CEO Ritu Narayan Receives 2023 Power of Women Award for Revolutionizing Student Transportation
ASU+GSV Honors Inspirational Female Leaders Who Increase Global Access to Education
---
Ritu Narayan, founder and CEO of Zūm, has been named one of the 2023 Power of Women Award winners from Arizona State University (ASU) and Global Silicon Valley (GSV).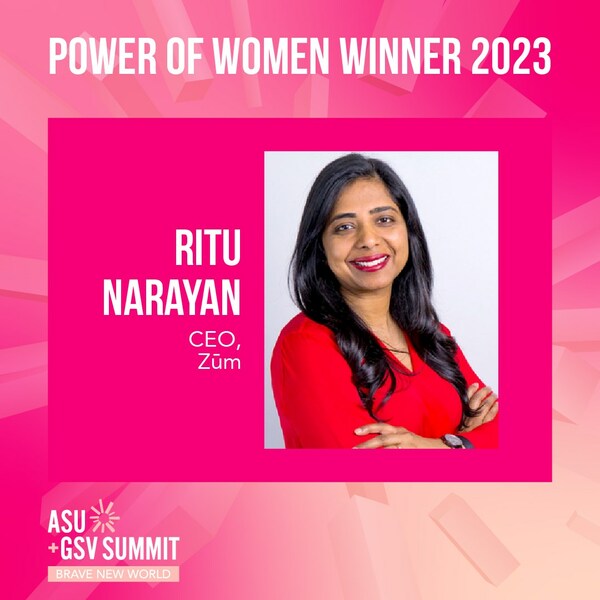 "The incredible group of CEOs, Presidents, and Founders who are being named this year are truly exceptional and come from a wide variety of founding, building, and operating experiences to be leaders of organizations at scale in the learning sector," said Deborah Quazzo, Managing Partner of GSV Ventures and Co-founder of the ASU+GSV Summit. "We are so proud of the critical role of female leaders in building the "Pre-K to Gray" education and skills innovation sector."
Narayan founded Zum in 2014 to revolutionize student transportation, the nation's largest mass transit system. Her career includes leading tech companies such as eBay, Yahoo!, Oracle, and IBM.
"Zum is leading the way in transforming student transportation, and we are committed to ensuring our children have equitable access to the education and support they deserve," said Narayan. "I'm truly honored to be recognized by ASU+GSV alongside such inspirational and powerful women leaders."
Zum was also recently included in the GSV 150, an elite list of the world's most transformative private companies in education.
With its next-generation technology and a multi-sized vehicle fleet model, Zum is leading the charge in providing safe, sustainable and tech-enabled student transportation to thousands of schools across the nation. Zum has partnered with several major school districts, including Los Angeles Unified School District, the second-largest district in the U.S.; Seattle Public Schools; Metro Nashville Public Schools; and the San Francisco Unified School District.
Narayan and the other award recipients will be celebrated at the ASU+GSV Summit April 17-19 in San Diego.
About Zum
Zum has revolutionized student transportation, the nation's largest mass transit system. Our robust operations and integrated end-to-end cloud-based platform provides a modern student transportation service for school districts purpose-built around the needs of kids and the expectations of their families. Zūm provides one seamless, real-time interface for parents, drivers, schools, districts, administrators and operators to transport children safely and with increased visibility and personalized care. Always investing in the wellbeing of the communities, Zum is also the only carbon neutral student transportation provider in the nation with plans to go Net Zero with EV transition. Learn more at www.ridezum.com.
About ASU+GSV Summit
The ASU+GSV Summit is the premier global event focused on technology innovation in education and skills. We believe that ALL people deserve equal access to the future. Started in 2010 with a collaboration between Arizona State University (ASU) and Global Silicon Valley (GSV), the annual Summit connects leading minds focused on transforming society and business around learning and work. Educators, investors, industry leaders, and entrepreneurs from around the world come together to innovate the future of education for all. Hosted in San Diego, over 5,300 people attended in April 2022. Speakers from previous years include President Barack Obama, President George W. Bush, Former Secretary of State Condoleezza Rice, John Legend, Common, Marian Wright Edelman, Bill Gates, Sandra Day O'Connor, Reed Hastings, President Vicente Fox, Malcolm Gladwell, Gloria Steinem, Tony Blair, and Howard Schultz.
CONTACT:
[email protected]