Female Disruptors Virtual Summit – A Step to Level the Playing Field for Women
In its second year, Female Disruptors has added MBA Scholarships, FREE ticket options, and internationally recognized female disruptor Sandy Carter…
---
In its second year, Female Disruptors has added MBA Scholarships, FREE ticket options, and internationally recognized female disruptor Sandy Carter to keynote speakers.
Female Disruptors is leveling the playing fields for women with its Unstoppable 2nd Annual Virtual Summit to be held on January 18, 2023 (https://female-disruptors-virtual-summit-2022.heysummit.com/).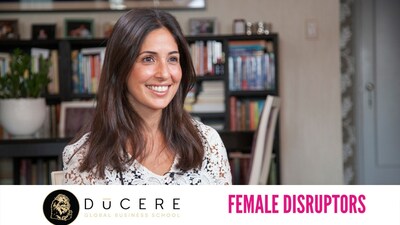 This 2023 program features exclusive added benefits, including a chance for attendees to win four MBA scholarship opportunities from Ducere Business School, a world-class global business school.
The Female Disruptors UNSTOPPABLE event features
This one-of-a-kind female-founded and focused event brings education to the forefront by offering scholarships to women attendees, crypto domains, free premium sessions, and top panels in every sector of business, from crypto to health/wellness.
"Female Disruptors is a global brand dedicated to creating equitable and inclusive opportunities for women through education, empowerment, and inspiration," said Female Disruptors' Founder, PR Entrepreneur and Author Lisa Buyer.
"Our goal is to reach one million women this year and make our content more accessible. We could not do it without sponsors and partners, with special gratitude to Ducere Business School and partners. With their support, we can offer more women the opportunity for inclusion in our events without income barriers," continued Buyer.
Other sponsors include Goat Social Media, Social Media Pros
"F" is for FEMINISM Diversity, Equity, and Inclusion
HER STATE Mental health and wellness
SHE MEANS BUSINESS in MarCom – Digital Marketing, PR, and Social Media
GROW GIRL – Empower and Transform
SHE CEO – Leadership is Your LOVE Language
GOLD DIGGER – Women, Law, and Money
TECH QUEENS – Web3, Metaverse, NFTs, and Beyond
From TEDx, SXSW, CES, and now Female Disruptors, internationally bejeweled Senior VP & Channel Chief at Unstoppable Domains and founder of Women in Web3, Sandy Carter, is joining the Web3 keynote roster.
Signing up for the Female Disruptors FREEmium experience offers access to Sandy Carter's keynote plus the SHE Means Business Track highlighting disruption in digital marketing, public relations, and social media.
Ducere Global Business School is a recognized leader in university–enterprise collaborations to design and deliver degrees that have real career impact. Ducere partners with major universities across four continents, global corporations, government departments, NGOs, and as a member of the AACSB, Clinton Foundation, United Nations, and various global chambers. Ensuring that programs are current, relevant, and industry connections.
Ducere has a mission of both business and philanthropy and has funded and supported the activities of the Ducere Foundation across 27 African nations. With offices in the United States, Australia, the UK, and Africa, Ducere constantly strives to promote global equity and access to education.
Female Disruptors https://www.femaledisruptors.com/ is a female-focused brand that aims to level the playing field, give women their fair share of the spotlight and reverse ageism, discrimination, and abuse of power.
What started as a magazine by Lisa Buyer in 2019 is now a movement building community and making a difference through education, collaboration, and inspiration.
Lisa Buyer, Founder
Female Disruptors
[email protected] 
561-703-8555
https://www.femaledisruptors.com/