Susan G. Komen® Launches Restorative Fitness Program for the Breast Cancer Community Led by YogaWorks Instructors
First ever certified yoga program for breast cancer patients and survivors launches January 2023
---
Susan G. Komen®, the world's leading breast cancer organization, today announced a first-of-its kind partnership with YogaWorks to provide online classes geared to the breast cancer community. Patients, survivors, and the breast cancer community will be given access to a restorative fitness program that will support their breast cancer journey at absolutely no cost.
YogaWorks Pink program members will also have full access to YogaWorks' regular collection of more than 1,300 on-demand classes and 25+ live classes each day. Research shows that yoga is an effective therapy to help patients and survivors manage the side effects of breast cancer and breast cancer treatment to improve their overall quality of life.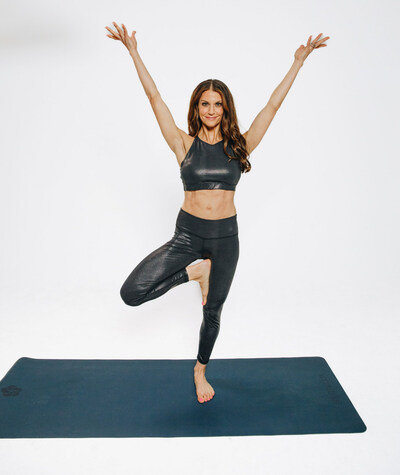 "Those impacted by breast cancer are an important part of our community, and YogaWorks has always tailored its programming to ensure flexibility with different needs in mind," said Maya Magennis, President of YogaWorks. "A partnership with Susan G. Komen, the nationally recognized leader in this space, will further amplify our company's ability to help millions of people on their journey toward recovery, strength, and restoration."
Breast cancer survivor, Emmy-winning TV host, bestselling author and wellness enthusiast, Samantha Harris is lending her voice as the YogaWorks Pink program's ambassador, a first-of-its-kind partnership between Susan G. Komen® and YogaWorks to provide online classes tailored to the breast cancer community.
"It's my honor to partner with Susan G. Komen and YogaWorks to bring a program designed specifically for breast cancer patients and survivors to fruition," said Samantha Harris. "As a survivor, thriver, and yoga-lover myself, I've lived the benefits that yoga has brought in calming my mind, helping reduce symptoms and side effects as well as allowing me to move around more easily after surgery and reclaim my body."
YogaWorks Pink will offer breast cancer community members unrestricted access to the platform at no cost, for three months. Beyond the three month trial, users may continue their YogaWorks Pink membership at a discounted rate, and individuals who sign up through Susan G. Komen will see 25% of their purchase go directly to Komen. Komen is delighted to support the efforts of YogaWorks to provide a unique fitness regimen that has the breast cancer community in mind.
To learn more about the program and sign up, visit www.yogaworks.com/pink.
Susan G. Komen® is the world's leading nonprofit breast cancer organization, working to save lives and end breast cancer forever. Komen has an unmatched, comprehensive 360-degree approach to fighting this disease across all fronts and supporting millions of people in the U.S. and in countries worldwide. We advocate for patients, drive research breakthroughs, improve access to high-quality care, offer direct patient support and empower people with trustworthy information. Founded by Nancy G. Brinker, who promised her sister, Susan G. Komen, that she would end the disease that claimed Suzy's life, Komen remains committed to supporting those affected by breast cancer today, while tirelessly searching for tomorrow's cures. Visit komen.org or call 1-877 GO KOMEN. Connect with us on social at www.komen.org/contact-us/follow-us/.
YogaWorks is the most trusted and experienced provider of quality yoga instruction for students of all levels and ages in the U.S. For more than three decades, YogaWorks has been cultivating the richest yoga talent from around the globe to offer both traditional and innovative programming that promotes total physical and emotional well-being. Today, YogaWorks' leading workout platform comprises 1300+ on-demand classes and delivers 25+ live daily classes. YogaWorks is a division of GoDigital Media Group, a multinational conglomerate founded in 2006 by Jason Peterson, with a mission to connect consumers to joy through content, community, and commerce. For more information on YogaWorks, visit yogaworks.com.
Press Contacts
SMITHHOUSE Strategy for YogaWorks Pink
[email protected]
Susan G. Komen
Camille Smith
[email protected]